::: SPIRULINA 500 mg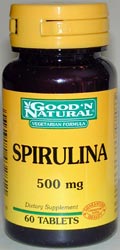 The best thing about Spirulina is that it is totally natural. It is a unique
DIRECTIONS: Take three (3) tablets three times daily, 1/2 an hour before meals.
INGREDIENTS:Spirulina Powder, Sodium Carboxymethylcellulose, Vegetable Source Stearic Acid, Colloidal Silicon Dioxide, Microcrystalline Cellulose.
FREE FROM: WHEAT, GLUTEN, YEAST, CORN, SOYA, SUGAR, STARCH, LACTOSE, PRESERVATIVES, ARTIFICIAL COLOURS AND FLAVOURINGS.
Suitable for Vegetarians and Vegans.
::: From Good'N Natural - the largest GMP certified* health nutrition manufacturer in the U.S.A. , also the Vitamin manufacturer of the year. Member of NNFA's TruLabel program.
[ Back to Spirulina Product ] [ Back to Spirulina in Chinese ]